DTM: Second title for Wittmann
A happy fourth-placed and a sad winner hugged each other after the DTM season finale at the Hockenheimring and showed their mutual respect.
The final race weekend of the 2016 DTM season left no wishes unfulfilled. A total of 142,000 spectators came to the track and got to see two dramatic and turbulent races and a battle for the title that could hardly have been more thrilling. On Sunday evening, after 18 races, a buoyant Marco Wittmann accepted the champion's trophy. "My second DTM victory, simply incredible. In 2014, we were really dominant. This year, I had to work really hard. An absolutely fantastic year," a visibly exhausted Wittmann said.
/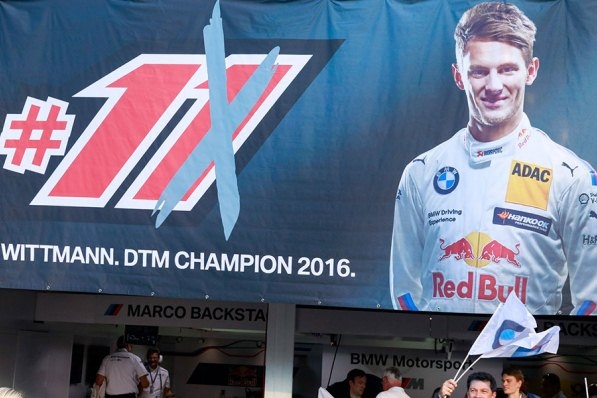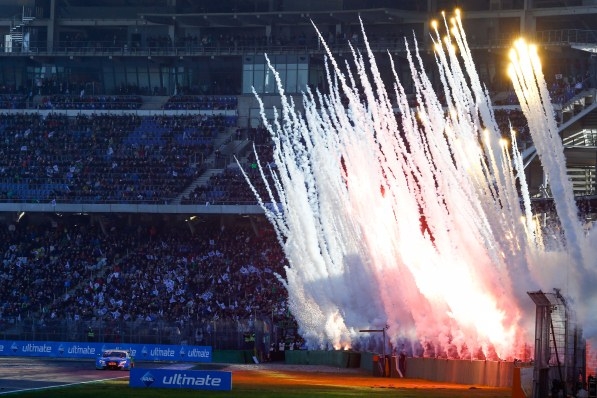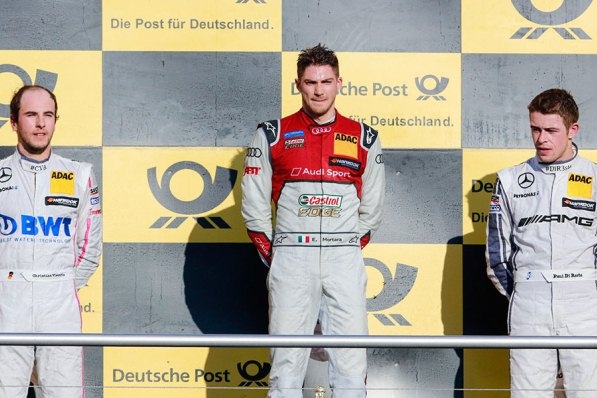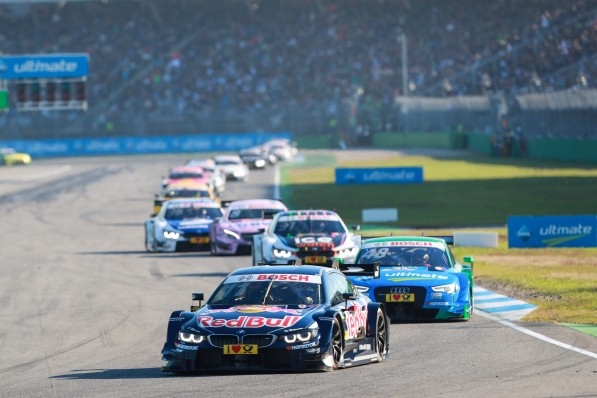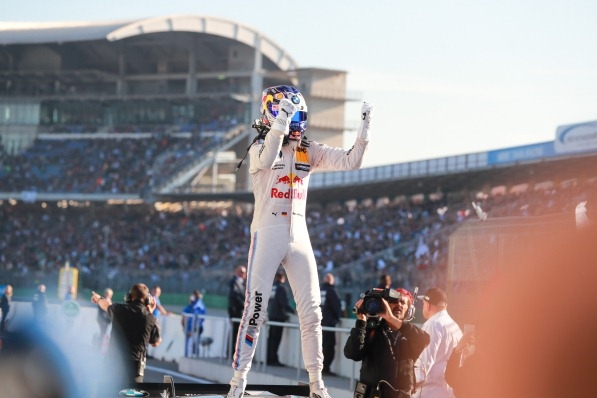 The BMW driver brought a margin of four points on his rival Edoardo Mortara home after a direct battle between the two in the final race of the year. Mortara drove the 'race from hell' he had promised on the day before. With his Audi RS 5 DTM, he once again showed a spectacular race, claimed the lead on lap six after a duel with Wittmann and didn't lose it anymore until he crossed the finish line, accompanied by the traditional fireworks. That his fifth victory of the season wasn't enough to clinch the title was partly also down to the fact that no other Audi driver was able to end up among the front runners to claim points from Wittmann in today's race. "I am simply just disappointed and sad," Mortara said. "There were some unfortunate situations this year that cost me the title. Now, I have to live with that."
Like on Saturday, the two title candidates staged a dramatic battle at the Hockenheimring. Mortara had a rather bad start and dropped back to seventh behind Robert Wickens on the first few metres, but then put everything on one card and overtook Wickens and Maxime Martin for fifth place. Wittmann's start was considerably better. In third place, ahead of fellow BMW driver Tom Blomqvist, he reached the start and finish line for the first time. However, the gap between him and his rivals was already gone on lap two. Mortara overtook the Brit at the hairpin and aimed at the points' leader.
Out in front, Gary Paffett did likewise with António Félix da Costa. The Portuguese had defended his pole position against the Brit, but came under more and more pressure. On lap four, Paffett was too eager and tapped the rear end of the BMW. Félix da Costa spun off the track and Paffett was given a drive-through penalty for his manoeuvre. Thus, the two title rivals suddenly found themselves leading the field. After six laps, Mortara made the decisive move, overtook Wittmann after the hairpin and gradually extended his lead. "It was like in a war out there. When overtaking Tom, there was some contact which was unnecessary from my perspective," Mortara reported about his first few laps.
Behind the two title candidates, Christian Vietoris and Paul Di Resta also made an excellent start into the race. From 18th place on the grid, the Scot was already eighth after five laps while Vietoris had worked his way up from ninth to fourth place. Both Mercedes-AMG drivers were called in for their pit stops at an early stage, a strategy that paid off. All drivers having made their pit stops, Vietoris and Di Resta were running in second and third position ahead of Wittmann and crossed the finish line in this order. "After our good start into the season, which unfortunately was followed by some disappointments, this is a very good way to end the year," Vietoris said. He was the most enthusiastic during the prize-giving ceremony. "After 18th place on the grid, I never, ever expected such a result. Great that it worked out like that. That boosts my confidence for next year," Di Resta said.
After 28 laps, Blomqvist dropped back behind Wittmann to help the latter secure fourth place. It was exactly this kind of support that Mortara's fellow Audi drivers could have made more difficult. After all, a sixth-place finish for Wittmann would have meant a loss of the title. However, Audi drivers were nowhere to be seen. After a completely pear-shaped qualifying, the best Audi driver behind Mortara, Jamie Green, started from tenth place on the grid, while BMW started the race with five of its cars on the first four rows on the grid. A situation that didn't change during the race: Green crossed the finish line in eighth. Thus, it was only a slight consolation for Mortara and Audi that both the manufacturers' and the teams' title with the Audi Sport Team Abt Sportsline are going to Ingolstadt. Wittmann, on the other hand, intends to party hard during his title celebration at the Hockenheimring. "Tonight, it is time for a decent party. I can't promise that our hospitality will still be standing there tomorrow."